Hello everyone! I have been blogging for a while now (around two years), some of you may know me, some of you may be new to my blog, and I would love it if you could help me improve my blog.
I have made a little survey for you guys to fill, so I can see what to change/add/remove in my blog, I will read every single entry. I know surveys can be a bit tedious sometimes, so I tried to make it as simple as possible and also, as an incentive to help you get through it, I will be having an International Giveaway. Just go ahead an
and once you're finished proceed to enter the giveaway. There are no extra entries, only the survey. I have made a little button for this and if you would like to help me spread the word that would be greatly appreciated :)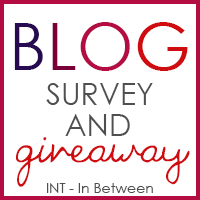 Thank you for helping me!